Maogmang Pag-abot sa Legazpi!
Welcome to Legazpi!
We all eagerly wait for you to discover the fun and adventure in our City. Legazpi is one of the premier destinations and fastest growing cities, the capital of the Province of Albay and the government center of Bicol.
We are the regional hub for Bicol Region.
Renowned as a tourist city because of world famous Mayon Volcano, Legazpi beckons everyone with a fusion of nature, adventure, food and culture experiences.
Legazpi is not only a place where nature's grandeur abounds but also an adventure destination.
Legazpeños embrace you with warm smiles and value your safety with our health protocols in place.
Dagos Tabi!!! 
Welcome to the City of Fun and Adventure — Legazpi City!
We invite you to experience our vibrant city and what we have to offer. Take part in our Rediscover Legazpi Challenge. Armed with only a cell phone and your sense of excitement visit our participating tourist destinations below for a chance to take home a prize.
Don't forget to snap a selfie, post on Facebook tagging @CityofFunandAdventure & @LegazpiPassport also using our hashtag #CityofFunandAdventure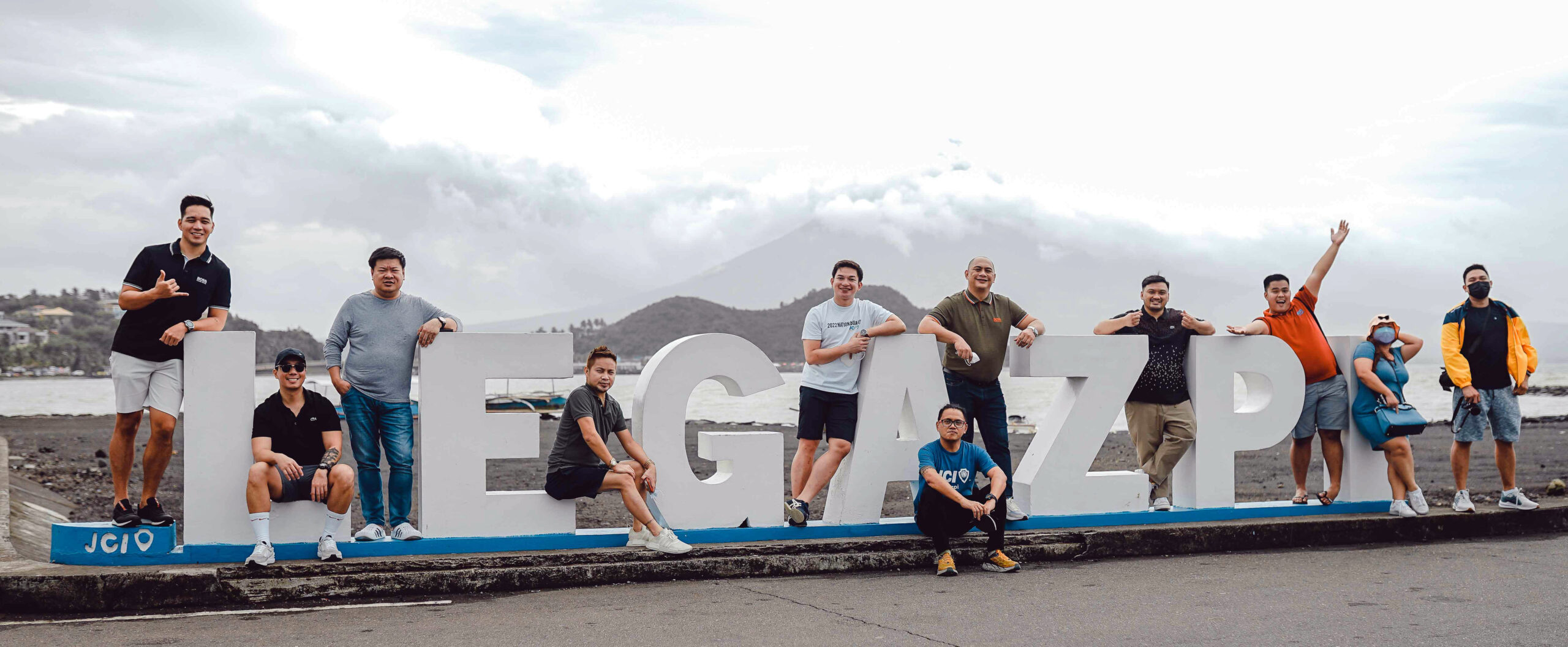 LEGAZPI CITY
Named after Spanish navigator and Conquistador, Miguel Lopez de Legazpi, this charming city by the foot of the perfect-coned Mayon Volcano is one of the country's emerging top destinations.
The provincial capital of Albay and the regional center of Bicol, it has been given the monicker "City of Fun and Adventure" because of the close-to-nature activities one can indulge in. Legazpi exudes an eclectic allure with its mixture of warm blend old world charm and facets of modern living such as themed shopping malls, quaint restaurants and cozy hotels.
With its natural features, urban amenities and recreational activities, Legazpi is being recognized as a "convention city," having hosted important international, national and regional meetings, incentives, conventions and exhibitions.
Also regarded as the gateway to Bicol, all the provinces and major tourist points in the region can be accessed from this city of Fun and Adventure.
WHERE TO STAY?
With your safety and comfort our top priority, stay in the city's DOT accredited hotels and resorts.
HOTEL CLASS
• Alicia Hotel & Convention Center • Hotel St. Ellis • La Venezia Hotel & Spa • Hotel Sentro Legazpi • Lotus Blu Hotel  • Ninong's Hotel • The Marison Hotel • The Oriental Albay • The Pepperland Hotel
MABUHAY CLASS
• A & A Bed and Breakfast Inn • Casa Roces Bed and Breakfast • Casablanca Hotel • Casablanca Suites • Ellis Ecotel • Hotel Iñigo • Hotel Liatris • La Granja Boutique Hotel • La Roca Veranda Suites & Restaurant • Magayon Hotel • Mayon View Garden Apartelle • Newtown Hometel • Niky JM Hometel • Pinaric Eco Resort • Riserr Residence • Sampaguita Tourist Inn • Shell Inn
ACCREDITED TOUR PROVIDERS
• AOL Travel and Tours • Aventura Events Travel and Tours • Donsol Ecotours, Inc. • Evintage Travel and Tours • Human Explore Travel and Tours • JRA Tour and Travel Services • Pacific View Travel and Tours, Inc. • Smartflight Travel and Academic Services • Travizia Travel and Tours • Trevally Travel and Tours • Your Brother Travel and Tours
DON'T FORGET YOUR PASALUBONG
SEDCEN
The Social Enterprise Development Center, located at Landco Business Park, Bitano, is the community showroom highlighting the products of micro-entrepreneurs province wide.
Legazpi Pasalubong Center
Located in Albay District, is a One-Stop Shop for proudly Albay-made products such as handicrafs, processed foods, fashion accessories, souvenir/ gift items, home decors, native accessories and many more, at very affordable rates
EMERGENCY NUMBERS
| | |
| --- | --- |
| Legazpi CIty 911 | 0947 277 5271 |
| | 0977 772 3909 |
| | 052 201 0102 |
| City Emergency Quick Response Team | 0939 119 7917 |
| Legazpi City Fire Station (Main) | 0917 185 9984 |
|              Radio signal: 143.100 | 0919 992 5484 |
| Legazpi City Police Station | 0998 598 5927 |
| Legazpi Public Safety Office | 0929 324 6987 |
| | 0932 801 1938 |
The Markers of JCI Legazpi
Since year 2010, JCI Legazpi were able to put up several markers with in the city, from the most photographed Legazpi Supermarker in Legazpi Boulevard upto the remotest JCI Marker near the peak of the Mayon Volcano. Every markers served it purpose and were able to endure wear and tear due to exposure to weather. These markers were also maintained at least yearly through cleaning and repainting.
1. Lignon Hill Marker (2010)
1st of 2 oldest JCI Legazpi Marker in the city. Built under the term of LO Pres Mariano Oriel Maddela. Located at the top of Lignon Hill, a prominent hill in the city of Legazpi, some 3 kilometers west of its downtown port area in Albay, Philippines. The summit rises to about 512 feet, affording excellent views of the Mayon Volcano to the northwest and the entire city and Albay Gulf to the east.
Ligñon Hill is a prehistoric cinder cone near the foot of Mayon, some 12 kilometers south-southeast of the volcano's summit. It is mainly composed of dolerite and basaltic volcanic rocks. Except for Mayon Volcano, it is the highest point in the city situated next to the Old Legazpi Airport in barangay 41 near the city's border with the municipality of Daraga. It hosts the Mayon Volcano Observatory, the central monitoring station of the Philippine Institute of Volcanology and Seismology built in 1989
2. Legazpi Port Marker (2010)
2nd of 2 oldest JCI Legazpi Marker in the city. Built under the term of LO Pres Mariano Oriel Maddela. Located at the Port District of Legazpi City.
3. JCI Legazpi Supermarker
Located at the Legazpi Boulevard, was built under the term of 2014 LO President Martin Reynoso. It was inaugurated by 2014 JCI President Shine Bhaskaran together with the JCI Philippines National Board led by NP Christine Garcia. 
4. Lava Wall Marker (2016)
Located at the edge of lava rocks deposit in Mabinit, Legazpi City. It was built under the term of 2016 Pres, Richard I. Ong.
5. ATV Summit Marker (2019)
A marker located just 3kms away from the peak of the Mayon Volcano, it is the remotest JCI Legazpi Marker built under the term 2019 President Kaloi Garcia. Accessible only by ATV Vehicles, Bike or by foot. 
6. Baltog Statue (2021)
The 1st hero of the ibalong Epic, the Baltog Statue stands at the foot of the Baltog Bridge at the Sawangan Park. Built under the term of 2021 President Johnson Uy.
This were inaugurated during the Opening of the Ibalong Festival in Legazpi last August 2021. This were graced by the City Mayor, Noel E. Rosal together with the City Councilors, the Regional Tourism Director, Herbie Aguas and several city officials. 
7. Bike Repair Station (2021)
With the sudden return of Cycling hype in the City due to the pandemic, JCI Legazpi saw the need for a pop up emergency bicycle repair stop. The marker, also built during the term of 2021 President Johnson T. Uy, strategically located at the from of the City Engineers Office, serves cyclists who need to repump air for their tires or needs basic tools for quick repairs.
8. Camp Ola Mural (2021)
Created when the Provincial PNP invited JCI Legazpi to paint a mural on one of its newly whitewashed wall in Camp Simeon Ola, Old Albay District. This Mural, became a baby JCI project of the chapter and showcased one of the National flagship Program of JCI, Peace is Possible.
9. Albay Blooms Mural (2021)
Was a tie up with the Albay province, showcasing the creativity of every barangays in Albay. In support of the Albay For Beautification Clean and Green Program, a province-wide mural painting contest was organized-thus an opportunity for JCI Legazpi to promote the JCI Movement in every barangay.
JCI Legazpi used the theme "Albay Flowers are Blooming" JCI Legazpi sought the assistance of the college student scholars they assisted last year who were not able to come home during the lockdown, as some of them informed us that they were fine arts majors. JCI Legazpi was able to complete the mural in record time of less than 2 weeks, from planning to execution. JCI Legazpi was able to to further the JCI movement through the wall mural in Brgy. Cruzada, Legazpi City. After the wall mural was completed, JCI Legazpi handed out cash to the students as a token of appreciation for their assistance.
10. Handyong Statue (2022)
Another hero of the Ibalong Epic, the statue stands at the foot of the Handiong Bridge at Puro, Legazpi City.